To All the Boys I've Loved Before by Jenny Han
Released 4/15/2014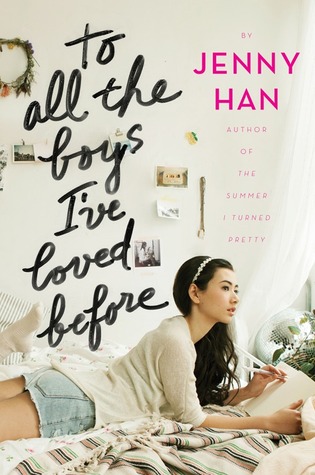 Goodreads
I Barnes & Noble
Summary:
Sixteen-year-old Lara Jean Song keeps a hatbox full of love letters under her bed. These letters are the ones she writes when she wants to get over a crush. Now, with her sister having moved to Scotland for college Lara Jean's world is changing fast - she feels an obligation to take care of her father and younger sister, and has to deal with the break up of her sister's "perfect" relationship and the feeling that her sister is pushing her away. When she discovers that, on top of everything else, her letters have been mailed, she knows her life is never going to be the same.
Review:


I started reading this book before it came out on Pulseit. Then I got to the end of the excerpt - which is when I realized it was an excerpt and not a full book. So as soon as it came in at the library, I checked it out for myself. And returned it the next day because I finished it that night.
Until this book came in, I was in a definite reading slump - I couldn't focus on anything for more than a short period of time because everything I was reading had a slow build and just felt like I had to work so hard to get through it. This one pulled me out of the slump - it's light and quick to read, although it does delve into family dynamics and the bond the sisters share is pretty incredible (though I don't have real life sisters, so I'm not sure how realistic it is). The focus definitely seems to be more on Lara Jean's relationships with her family. The book sets the foundation for exploring other relationships, but doesn't really go too deep into those (we'll probably see more next year when the sequel comes out). It's cute and I'll probably read it again before reading the sequel.
Now, I want to address some of the commentary on Lara Jean that I've seen in other reviews. Spoilers may happen below, so proceed with caution.
Let's take a look at Lara Jean:
1. Her mother died when she was pretty young, meaning she's been raised by her father (who is incredibly busy because he's (I think) an OB/GYN).
2. But basically her older sister has been managing the house and family. Her older sister is two years older than her.
3. Rather than actually dealing with feelings about boys, she writes a letter and sticks it in a box and is "over" said feelings.
Given these circumstances, anyone who thinks Lara Jean as a character should have had more life experiences or a more mature and worldly voice is crazy. Her mother figure is a sister barely older than her and her father doesn't seem to be around enough to really know what's going on with his daughters. Lara Jean doesn't actually date, so she she hasn't really grown into her young adult self. Her knowledge of relationships comes from her observations of her sister's relationship (which it turns out aren't as reliable as she thinks, seeing as she's convinced that her sister hasn't had sex when she has).
Now, I'm not saying that in order to grow up and have a mature voice one has to have sex or be in a relationship - but pretty much all aspects of Lara Jean's life seem to be incredibly sheltered. The fact that she hasn't realized that feelings don't just go away because you write them down and stick them in a box is evidence of her naivety and immaturity. It's realistic that she sounds young and innocent because of the circumstances.
To be fair, that voice is not something everyone will want to read. So if you don't want to read it because of that, that's fine. But I don't like reading reviews saying it's unrealistic or unbelievable because it's not. I've known the sixteen-year-olds who sound like that because I was one, and I work with all sorts of teens. What I haven't known is the sixteen-year-olds that sound older than thirty that we sometimes see in YA.
All in all, if an innocent romantic of a main character is going to bother you, you probably shouldn't read this one. But it's cute and a quick read so otherwise, I'd recommend it.